Blog
The #1 Reason Why Oncology Studies Finish Late and Over Budget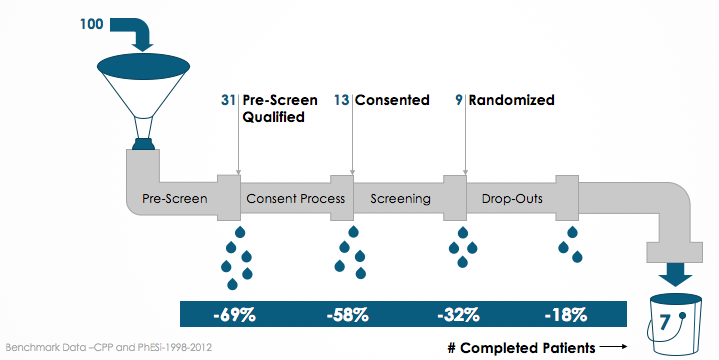 Everyone in clinical research understands the importance of patient enrollment to the success of a study. Sponsors spend an average of $37,000 per clinical study day on operational costs alone.
When surveyed, people indicate that they are interested clinical research. 80% of people are either very willing or somewhat willing to participate in a study. Yet statistics show that there's a disconnect between the willingness of patients to enroll in a study and sponsors' ability to successfully achieve their patient enrollment targets:
85% of clinical trials fail to retain enough patients
80% of clinical trails fail to finish on time
50% of sites enroll one or no patients in their studies
40% of the total US pharmaceutical clinical trial budget is allocated for recruitment ($1.89B)
Oncology is a Different Ballgame
When it comes to oncology studies, the numbers are worse. 80% of cancer patients are unaware of their clinical trial options and only 3% of cancer patients actually participate in a trial.
Clinical operations executives with deep experience managing oncology studies understand the challenges with enrolling the right patients according to their study timeline. However, at the sponsor level, there seems to be little effort dedicated to finding a real solution (when that solution could save sponsors significant amounts of capital – hundreds of thousands of dollars in study costs as well as millions due to lost time to market).
It might sound surprising, but we experience this often. Today is an exciting time to be in oncology research. Immuno-oncology is showing promising results. But many sponsors fall into the trap of relying on prestigious academic research centers to bring credibility to their study, without truly understanding if those sites will be able to meet the study's patient enrollment targets.
Causes and Solutions
The number one reason why oncology studies fail to meet their enrollment targets boils down to site selection. Determining the right investigator mix that matches your protocol criteria and enrollment timelines is absolutely critical. And it is commonly overlooked.
Having a prestigious academic center in your study can bring valuable recognition, but it can also dramatically affect your enrollment rates if you're not experienced in working through the administrative hurdles that most larger academic sites present, while also understanding how to keep your study visible among the many other studies running at the site.
Other common causes of delays include:
Overly restrictive eligibility criteria
Poor screening practices
Poor training of on-site personnel
Not being visible online for the cancer patients to find your study
Participation fatigue
On overview, to overcome these, sponsors should give extra attention to:
Truly identifying the right investigator mix that can deliver the right patients to meet the timeline in your protocol
Improving your communication to investigators, patients and all site staff to keep your study top-of-mind
Using realistic protocol inclusion/exclusion criteria
Continually educating patients
Removing choke points in the patient retention funnel
For a deeper discussion about how to apply these recommendations to your study, feel free to contact us.